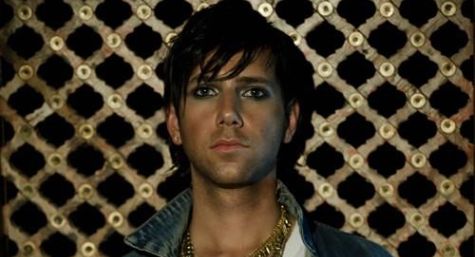 "I had a great idea for the artwork," smiles Tiga saucily, "It was going to be like a clock – the minute hand was the shaft of the penis and the balls made up the hour hand. Sadly it got left on the cutting room floor.' It certainly might have made stocking the CD in HMV a bit difficult.
Initially turning our heads back in 2001 with a gorgeously dark cover of Corey Hart's Sunglasses At Night, Tiga's 2nd album 'Ciao' sees him taking a deliberately more serious approach. While his debut 'Sexor' was quite a heavy club record, 'Ciao's aim is to be a "proper album you can listen to anywhere, without skipping any tracks." Produced mainly by Soulwax over in Belgium, a country Tiga describes as 'steak, fries and a huge amount of sauce', it's an electronic album peppered with hits you can still dance to in a club ('Mind Dimension'), rave out to while driving (the seriously epic 'Love Don't Dance Here Anymore') or simply waggle your arse to while you're doing the hoovering ('Sex O'Clock' – 6.09 apparently). Mission accomplished.
Having worked with Jake Shears previously on their silly cover of Nelly's 'Hot in Herre' and Tiga's last shot at chart success 'You Gonna Want Me', the glittery one was happy to be back in session on the heavy 'Gentle Giant.' "I love being in a studio with Jake because he's got so much energy that he'll go crazy and try something in 20 different ways just to see how it sounds. I've known him for years and it's made me very proud to see how well he's done." Also involved on the track was LCD's James Murphy – 'the greatest producer in the world'. "I found him quite intimidating to work with," Tiga confides. 'He's just so cool, with the whole punk and disco thing going on! Not of cool as me of course, but he was great fun. He makes you really argue for your point if you want to do a bassline a certain way. It made me stop being so lazy."
The first single from the album is the deliciously silly 'Shoes'. Sounding musically like something Peaches might trot out, with a stomach flipping bass and chatty vocals, Tiga demands for you to 'take off your shoes'. Could we have found this diminutive Canadian's secret fetish? "Oh no! I love shoes, but not like that," he squeals. "I like gloves more! You feel strong when you wear gloves, particularly leather ones. I'm not a very big man, but gloves make me feel big and strapping, like I can break things!" Dressed quite plainly save for the biggest, brightest red trainers we've ever seen, Tiga knowingly tells us, "Shoes are an indication of what type of man you are though. I can tell almost everything from a man's shoes."
Sexuality is always something Tiga's played with but despite not being gay, the scene has had a big influence on his music. "Montreal (his hometown) is a very gay city. When I started DJing it was in gay clubs, and most of my friends were gay. They had the best names. The first club was called 'K-O-X' and there was a regular warehouse party called 'Sterile Cowboys'. It didn't mean much to me at the time…" There was nothing though that could prepare him for the time in Denmark when a man bit his left ass cheek and 'held on like a dog'. "It wasn't the least bit a turn on,' Tiga asserts. "I was wearing jeans but he actually broke the skin so I was bleeding. Yet he claimed he was a fan!'.
Written originally for Attitude Magazine's 15th Birthday Issue